Maintaining Your North Palm Beach  Jeep Wrangler
Your new North Palm Beach  Jeep Wrangler is the modern-day version of a legendary vehicle that has a reputation for dealing with everything thrown its way.  Available in many different versions, the Jeep Wrangler is powered by an iconic 3.6-liter Pentastar V6 which has a standing as one of the most reliable engines in the business. But that reliability only comes when it is properly maintained with the correct oils, filters and care as defined by your Jeep Wrangler Owner's Manual and your Jeep service advisor.
Jeep Wrangler Wheel Alignment:
Off-roading is just one of the Jeep Wrangler's strengths. But the truth is, all that banging around can result in a Wrangler getting its alignment knocked out, resulting in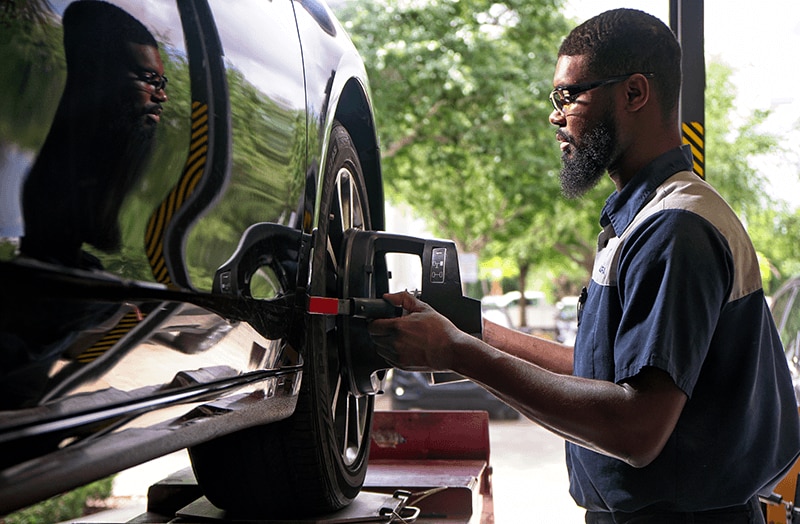 excessive tire wear and more. It could be something as simple as rolling over a large rock or small bolder, but chances are it might rattle something that is critical to achieving long life from your Jeep Wrangler and its tires. For that reason, Jeep, and your Northlake Jeep, Chrysler, Dodge and Ram dealer service advisor suggest having your Wrangler realigned every 12-15,000 miles, or sooner if you tend to enjoy your Jeep extra hard!
Jeep Wrangler Tire Rotation:
This goes hand in hand with alignment on your Northlake CDJR vehicle. Rotation helps to equalize tire wear at all four corners of your Jeep Wrangler, giving each pair a chance at similar wear. Front tires get the most wear with all the stress of carrying the weight of the engine and suspension, which can be made worse by under-inflation. Do this properly, and chances are you will be on a schedule that will have you replacing a set of tires once rather than the odd replacement of a front or rear, one at a time. For best results consult with your Northlake CDJR service advisor who will rotate and align the tires of your Jeep Wrangler at the same time.