Maintaining Your  Northlake Jeep Grand Cherokee.
Your new  Northlake Jeep Grand Cherokee is like a modern day Conestoga Wagon, able to carry everything from a home to a family.  Available in a range of flavors from base, to Hemi, to SRT to Diesel, the Grand Cherokee is equipped with engines ranging from a 3.6-liter Pentastar V6, 3.0-liter Diesel, 5.7-liter Hemi, 6.4-liter Hemi and the 6.2-liter Supercharged Hemi, which is one of the most powerful engines (707-HP) in the business. Super reliable, all, but that reliability comes when the vehicle is properly maintained according to its Jeep Grand Cherokee Owner's Manuals. Use the correct oils, filters and care as defined by your Jeep Grand Cherokee Owner's Manual and your Napleton Jeep service advisor for years of reliable service.
Time for an Oil Change: Oil is the life giving substance of your Northlake Jeep Grand Cherokee. Whether you use Synthetic or Conventional oil, treat your Grand Cherokee to the highest quality lubricants possible that will give you miles and miles of reliable transportation.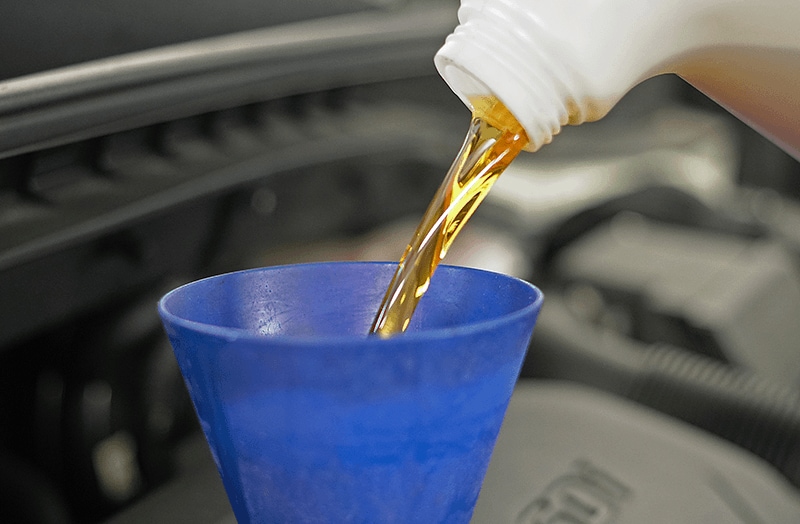 The Grand Cherokee is equipped with an automatic oil change indicator that lights to alert you to change the oil and filter at the same time to remove dirt and impurities that managed to enter the system. Still, if you subject your Grand Cherokee to harder than normal wear, you would be wise to consider changing your oil every 4,000 miles. Your Northlake CDJR Service Advisor will be happy to help you schedule an appointment.   
Wheel Alignment: Your Jeep Grand Cherokee will give years and years of reliable transportation. But it could still find itself needing minor adjustments from time to time, including an all-wheel alignment.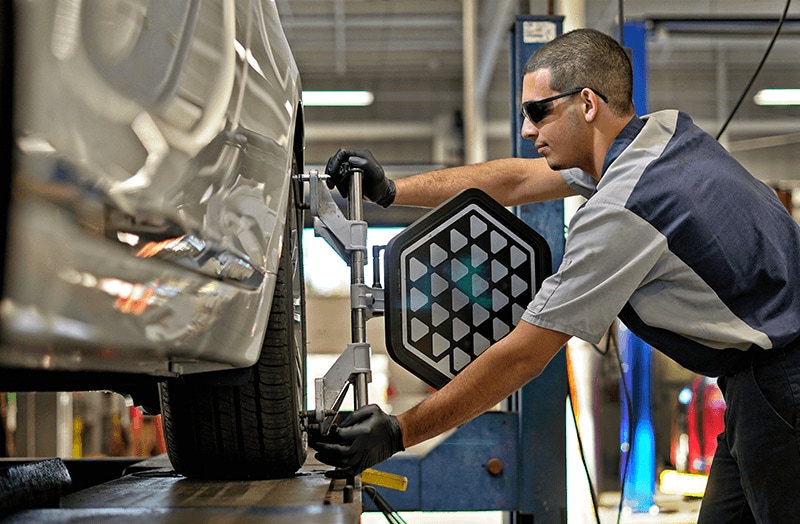 A key indicator of such a need is the tendency for the Grand Cherokee to drift left or right while driving on a straight highway. Excessive tire wear is another sign that shows it may be time to get it up on the alignment machine at Northlake Chrysler Jeep Dodge and Ram. Your Jeep Owner's Manual and your Napleton Service Advisor can help get you on an alignment schedule that will have you driving straight and true in no time.
Rotate those tires: A hand-in-hand treatment that should be completed at the same time as alignment, tire rotation equalizes the wear on your Northlake Grand Cherokee's wheels and tires.Rotation moves tires to all four corners of your Jeep, giving each pair a chance at similar wear.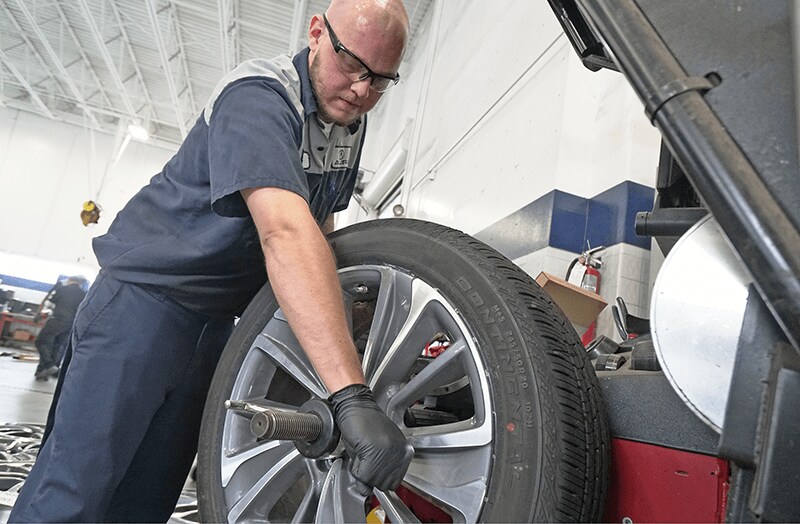 Do this properly, and chances are you will be able to maximize the mileage you are able to achieve for each set. For best results make an appointment with your Napleton CDJR service advisor who will rotate and align the tires of your Jeep Grand Cherokee at the same time.
Transmission Fluid: Your Northlake CDJR Jeep Grand Cherokee has a modern automatic transmission that operates as a sealed unit that should never need a fluid change. Of course there are exceptions to every rule, but your Northlake CDJR service advisor might recommend a transmission fluid change after a weekend jaunt through beaches, streams or other locations where the fluid may have become contaminated with a body of water that you may have encountered. This is rare, but the service advisor and your Jeep Grand Cherokee Owner's Manual should be consulted for more information.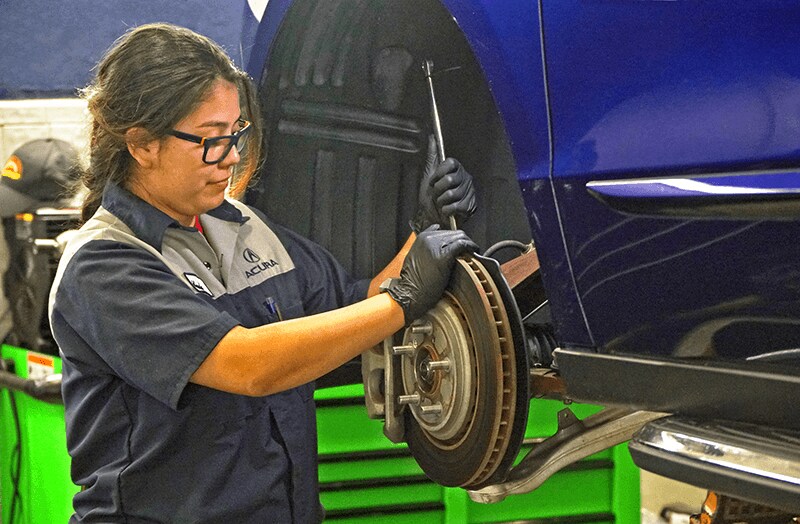 Brake Pads and Rotors: The Brake pads and Rotors on your new Jeep Grand Cherokee are here to provide maximum stopping power on pavement or while pounding the sand dunes. They should be visually inspected by your Northlake service technician during each oil change to gauge wear and life expectancy according to your driving style. Your Napleton Northlake Jeep Service Advisor can offer expert service advice for the best combination for your new Jeep.
Air Filters: Jeep owners can be a wild bunch, driving off-road at a moment's notice, for work and for fun. While the Owner's Manual in your Jeep Grand Cherokee suggests changing the air filter every 30,000 miles, check in with your Napleton service advisor who can suggest more frequent replacements if necessary. For example, if you tend to live or play in particularly dusty regions, you might be a candidate for more frequent filter changes. Please consult with your Northlake service department who will stock all the filters your Jeep requires. It's just the thing to keep your Grand Cherokee breathing freely.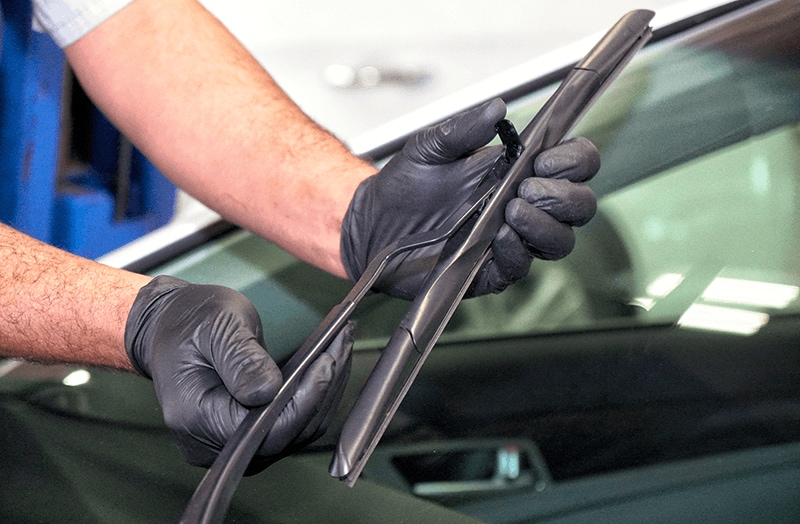 New Wipers: Dirty windshields are part of the game with a Jeep owner. That's why it's a great idea to have fresh windshield wipers for your Grand Cherokee. With heat and cold, the wipers can become hard and brittle and their cleaning ability will suffer as a result. Northlake Jeep's Parts and Service department stocks Mopar Wiper Blades for just that reason. Pro tip: Worn wipers will tend to leave water spots and streaks on the windshield, or conversely become squeaky and make lots of noise. When you see and hear that, it's time for replacement.
Topping off the fluids: It's natural that you will most likely find your windshield wiper fluid empty right in the middle of a big road trip. Don't leave anything else to chance. Stop by Northlake Jeep to top off all of your fluid levels before hitting the road. Your service advisor and the entire Napleton Northlake CDJR service team is ready to inspect them, even between oil changes. Call up for more information today.
Finally: Your Jeep Grand Cherokee Owner's Manual gives owners detailed information on the safe and complete operation of their Jeep Grand Cherokee. The service advisors at Napleton Northlake CDJR are ready to keep you and your Northlake Jeep Grand Cherokee running like new. Call Napleton for an appointment today.