Maintaining Your Northlake Jeep Renegade.
Small but mighty, your new Northlake Jeep Renegade is the perfect vehicle to get around the urban jungle and still arrive trail ready for your next adventure. It's available in a variety of trim levels, with a choice ofr 1.4-liter Turbocharged inline four cylinder or 2.4-liter Tigershark Multi-Air naturally aspirated four-cylinder engines, a 6-speed manual or 9 speed automatic transmission, and front or all-wheel-drive systems. Oh, and we almost forgot, it has enough Jeep heritage and swagger to compete with the big boys. With all that swagger, though, comes the responsibility to properly maintain it by following the guidelines found in the Jeep Renegade Owner's Manual. Your Northlake Jeep Service Advisor is able to help you keep your Jeep running like new.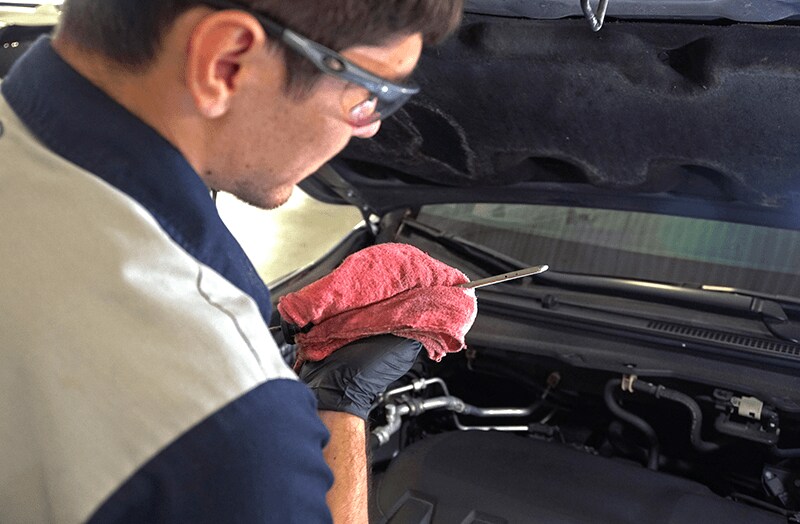 Transmission Fluid Care: Your Northlake CDJR Jeep Renegade has either a 6-speed manual transmission or a 9-speed automatic transmission that operates as a sealed unit that should never need a fluid change. It should provide proper service for the life of your vehicle but if you have a tendency, like children do, to jump into every puddle you come across, you may find it possible that you have contaminated the transmission fluid. In such a case, your Northlake CDJR service advisor might recommend a transmission fluid change after such an excursion. This is rare, of course, but the service advisor and your Jeep Renegade Owner's Manual should be consulted for more information.
The Braking System: Your new Jeep Renegade's brake pads and rotors are engineered to provide maximum stopping power on all surfaces. They will wear out over time, though, and need replacement after a while. Your Northlake Jeep Service Technician can inspect both the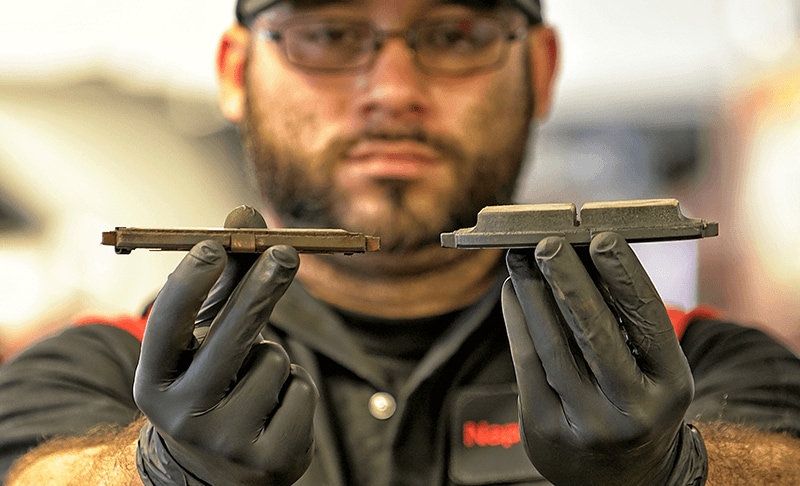 brake pads and rotors during each oil change to make sure that your Renegade stops when it needs to. Your Northlake Jeep Service Advisor can offer expert service advice on the brake wear of your new Jeep.
There's Oil In Your Future: Oil is the fluid that keeps the engine in you Northlake Jeep Renegade operating smoothly. Whether you choose Conventional motor oil or a high mileage Synthetic formulation, your Jeep Renegade deserves the highest quality lubricants available for miles of reliable operation. The Jeep Renegade is equipped with an automatic oil change indicator that alerts you to change the oil and oil filter to remove impurities and dirt that may have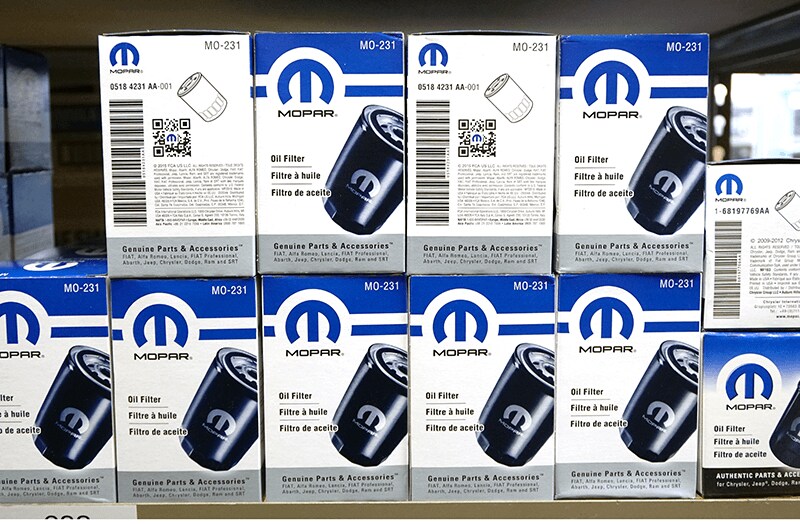 entered the system. Not that you would, but if you subject your Jeep Renegade to heavy duty use, according to your Renegade's Owner's Manual, the indicator light could appear as soon as 3,500 miles. Your Northlake CDJR Service Advisor will be happy to help you schedule an appointment.    
Staying Straight: Your Jeep Renegade is adjusted at the factory for proper alignment but if you are as adventurous as most Jeep owners, you won't be able to resist the call of the wild, even if it is just the parking lot of the local Buffalo Wild Wings. Even there, you can manage to hit a stretch of bad pavement or a concrete parking block that will be just enough to cause your Renegade to fall out of alignment. A clear giveaway will be if you find your Jeep drifting left or right. Another is excessive tire wear. Both are signs that it's time for an alignment at your Northlake Jeep, Chrysler, Dodge and Ram service department. A Napleton Pro Tip: Just prior to your alignment, it's a great time to have your tires rotated to insure even wear all the way around your Jeep Renegade. Your Northlake Service Advisor can help get an alignment scheduled and back on the road in no time.
Rotate Your Tires: Speaking of rotating those tires, it's a great idea to have this done whenever you take your Northlake Jeep Renegade in for an alignment, or an oil change, whichever comes first. This helps to equalize the wear of your Renegade's tires at all four corners. Do this properly, and chances are you will maximize the mileage for each set of tires. Make an appointment with your  Northlake CDJR service advisor who will rotate and align the tires of your Jeep Renegade at the same time.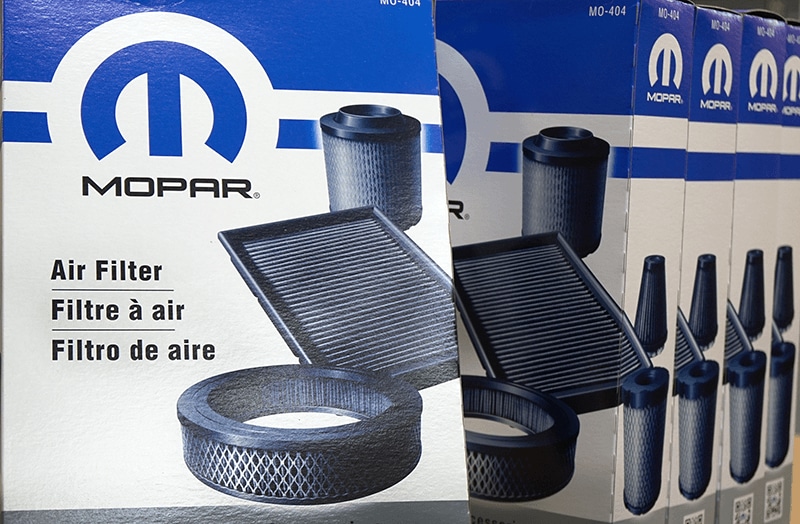 Air Filters: A typical Jeep owner can be found piloting his or her Renegade anywhere from the shopping mall to off-roading with friends and everywhere in between. Driving through these varying conditions finds your air filter working overtime to make sure that dirt and impurities are filtered out before they can enter inside your Renegade's engine. The Owner's Manual in your Jeep Renegade suggests a change every 30,000 miles, or more if you subject your Jeep to more extreme conditions.  Contact your Northlake service advisor who can recommend more frequent replacements as needed, especially if you live in a particularly dusty region. Here at Napleton, we stock all the filters your Jeep requires. It's just the thing to keep your Jeep Renegade breathing freely.
New Wipers: Dirty windshields are like dirty teeth. Just sometimes though, you find yourself with an old toothbrush that doesn't quite work like it used to anymore. That's why it's a great idea to keep a spare pair of Mopar-approved wiper blades on hand for your Jeep Renegade so you can swap them out at the first sign that the old pair is ready for replacement.  Heat and cold can take a toll on your Renegade's wipers, which can become hard and brittle with their cleaning ability suffering as a result. Northlake Jeep's Parts and Service department stocks just the right Mopar-approved Wiper Blades for that very reason. A Napleton Pro Tip: Old wipers will leave streaks, spots and smears on the windshield, and may become noisy and squeaky as well. Those are clues it's time for replacement.
Topping off the fluids: There are many other fluids that help your Renegade run as it should. Windshield Wiper Fluid, Coolant, Oil, Transmission and brake fluid are all doing their part to insure your Jeep's proper operations. But if you even find their levels lower than normal right before a big road trip, for example, stop by Northlake Jeep to top off all of your fluid levels before hitting the road. Your entire Northlake CDJR service team is ready to inspect them, even between oil changes. Call for more information today.
The Wrap Up: Your Jeep Renegade Owner's Manual has detailed information for you on the safe care and feeding of your new Renegade. They are ready to keep you and your Northlake Jeep running like new. Call Napleton Northlake Jeep, Chrysler, Ram and Dodge for an appointment today.