Stop That! Checking The Brakes On Your Napleton Northlake Chrysler Dodge Jeep and Ram Vehicle.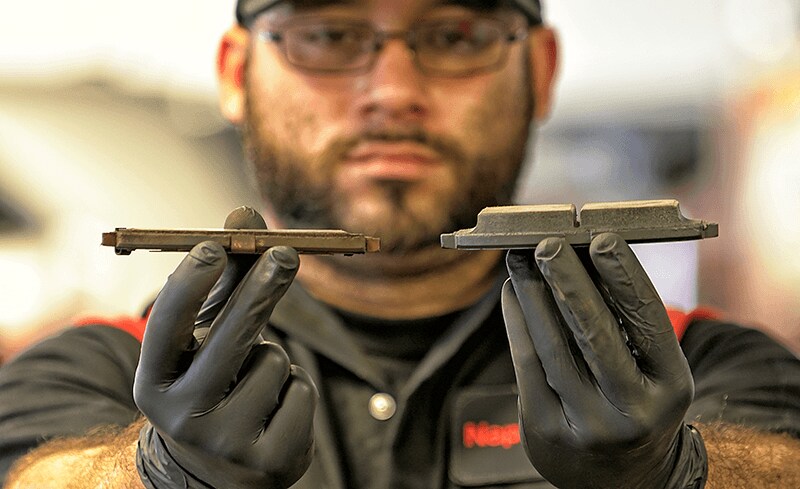 While we would never advocate speeding, (and-cough, cough-- never partake in the practice ourselves) it's great to know the binders found on the entire range of Chrysler, Dodge, Jeep and Ram range of vehicles are some of the grabbiest in the industry. Critically crucial pieces of safety equipment found on your new FCA vehicle, it is comforting to know they are there at the ready to help rein things in. To make sure they are always ready for duty, it is a good idea to have them inspected, usually during a routine oil change. Failure to inspect them can cause harm to your car, yourself and others if they are ignored. And that doesn't even consider the costs involved in reconditioning or replacing rotors, if the pads have worn down too far.
One quick peek prevents disc squeaks. Depending on the style of your wheels (magnesium alloys with big gaps, for instance), it is pretty easy to look and visually inspect the amount of friction material left on the pads, (See photo above) before metal to metal contact occurs. But as a responsible vehicle owner, it is your job to make sure they are replaced before any such metal-to-metal grinding does happen. Getting to this point means you have gone too far! This contact causes more than an annoying noise, it can also come with a pricey repair bill when it comes time to replace your pads and rotors, especially if they are high-performance aftermarket models from such companies like Brembo and StopTech.
Brake pads come in three types of formulation. They include Organic, Non-Asbestos pads, which are composed of various fibers mixed with bonding resin to hold them together. The fibers can be composed of blends including rubber, glass-fiber, Kevlar and carbon. These are the least expensive option, not leaving much brake dust, are soft and easy on the brake rotors, and are a good fit for every day driving.
Semi-Metallic are also a good compromise. Made up of 30-65% metal, they use steel, iron, copper and other metallic fillers, as well as a graphite formulation to offer better stopping power over the Organic type of pads. They don't lose braking power, also known as brake fade, as the temperature increases and have generally a firmer brake feel overall. On the other hand, they are noisier than the Non-Asbestos variety, and make more brake dust than other models. They also tend to be coarser, reducing the life of the brake rotors in the process. Still, they are at home on both the street and the racetrack. 
Ceramics are the highest-priced and highest-performing of the three types, and are made using pottery-like material bonded with copper fibers blended in for added bite. Their dust is lighter and won't stick to the alloy wheels. In general, they'll last longer than ceramic or semi-metallic, and won't make as much noise as the other pads. On the downside, they are typically the most expensive and are not really suitable for the race track or other heavy duty usage.